Barbados is a relatively flat island with an abundant supply of large gradually sloping beaches fringing the land.
In some areas, notably the North, coral and sandstone cliffs rise straight out of the sea reaching several hundred feet in height. In the South West, cliffs of 50 to 100 feet rise and fall along the coast, separated by small sandy beaches and bays.
On the flatter South West and West coasts, you may walk for miles along unbroken white sand beaches, sometimes stopping at a cluster of coral rocks jutting out to sea. All along the shore large and small beaches are broken by coral formations, the soft coral rocks weathered by the ocean surf, forming abstract sculptures to an artist's eye.
Soft, Warm, White Sand Beaches

Barbados is a coral island and its beaches are made from finely ground coral forming a clean fine grain. There are few beaches that are not fine sand. Generally if there is a beach on the shore, it is beautiful sand. Natural sand dunes are not common but some exist in Long Bay on the South West Coast.
Privacy:
All beaches in Barbados are open to the public. Properties which front onto a beach may own the land to the high-water mark only. Access to the beach is a right for every Barbadian and many of the sea front properties must provide a public right of way across their land to the ocean.
Nude Bathing:
There are no nude beaches and all beaches are open to the public. Nudism is actually illegal. Barbados has a history of conservative British tradition and Barbadians are not comfortable undressing or seeing other undress on public beaches.

Beach Vendors and Security:
Selling goods to tourists on the beach is a regulated practice in Barbados. Vendors are not permitted to roam the beach and set up shop out of a carrying case. If you are bothered by a vendor, report it to the police. Most of Barbados' favorite beaches are patrolled by police, but they cannot be everywhere and it is prudent not to leave valuables unattended.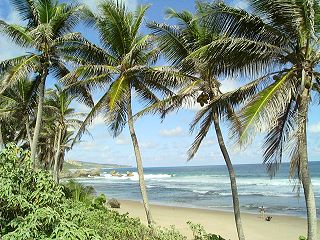 Of course, not all of Barbados' coast is sand; there are mangrove swamps, cliffs, tide pools and areas where beds of low lying coral rock, sandstone, clay or shale reach out to the sea.
Barbados' swamps are to be found in Chancery Lane, Inch Marlow and Graham Hall in the South and South West of the Island. They are the major wetlands of Barbados providing an assemblage of plants and animals forming an important link in the food chain of offshore fish and birds.
Low lying rock formations are particularly prevalent along the North East and South Easter points; periwinkles, sea anemones, crabs and snails make their home along these rocks.
Tidal flats and wave ridges occur mostly off the East coast within eroded limestone plateaus and other low lying rock formations.
On the South and South West Coasts you will find many tide pools, an important ecological resource, acting as nurseries for juvenile fish and other permanent residents like the ghost crab and sea roaches as well as marine plants like sea moss which is made into a health drink.
Cliffs of coral and sandstone overlook calm bays and rugged coastlines and sometimes small, cozy soft sand beaches nestle between heads of coral sculptured by the sea. Most of the larger cliffs are in the North, in the parish of St. Lucy.